Security company insiders: 'Imposter' police officers all worked at same business
Nashville Downtown Partnership confirms security company ordered to stop using unlicensed people
Published: May. 3, 2023 at 7:43 PM CDT
NASHVILLE, Tenn. (WSMV) - On March 15, 2020, Lebanon police said they found Ty Shawver wearing guns, a bullet proof vest, and a T-shirt and hat reading "police."
They arrested Shawver, citing he was driving a white Dodge pickup, pulling people over, using blue lights.
A complaint, filed at the time with a division of the Tennessee Department of Commerce and Insurance reads that Shawver was apprehended a "police type uniform."
But Shawver was also wearing something else: a patch on the T-shirt that read, according to multiple sources, "Police off duty, Solaren Risk Management."
According to state records, Shawver was working at the time for Solaren, a security company in Middle Tennessee.
Shawver declined comment when reached by phone, but confirmed his criminal charge had been expunged from his record.
Shawver becomes the latest person identified in a WSMV4 Investigation "The Thin Blurred Line" for not being certified as a police officer, but wearing gear that identified himself as police.
After graduating from the academy and being reviewed by the Peace Officers Standards & Training Commission, police officers are "certified," meaning they have a license to be an officer.
Now, WSMV4 Investigates has confirmed through public records, resumes and sources that all the uncertified men identifying themselves as police are either former or current employees for Solaren Risk Management.
Including:
Nick Jordan, who is not a certified police officer and was convicted in 2021 of impersonating a police officer, but WSMV4 Investigates found him wearing a police patch at the Opry Mills Mall just two weeks ago working security for Solaren.

Chris Tubbs, not a certified police officer, who is under investigation for impersonating a police officer and showed himself on social media wearing police identification and, in one photo, a Solaren patch.

Mason Schweppe, not a certified police officer, who we found wearing police identification in downtown Nashville, whose resume shows he once worked for Solaren.
Former employees claim Solaren is deceiving the public and businesses
WSMV4 Investigates spoke with two former Solaren employees, who requested anonymity.
Both said the company does employee certified police officers to work off-duty jobs, but also allows other non-certified employees to wear police identification, like vests and patches.
"They're impersonating police officers," the first former employee said.
"Nobody is doing anything about it," the second former employee said.
"Why did you agree to talk about this?" asked WSMV4 Investigates.
"Right and wrong," the first employee said.
"Comes down to that?" WSMV4 Investigates asked.
"It's all about that," the first employee said. "I think somebody better get a handle on that company pretty quick."
WSMV4 Investigates asked the employees why the average person should be concerned about non-certified people wearing police identification.
"if you're downtown, and you're anywhere, and you need help, you see someone in a police uniform, you're going to think they have the appropriate care, they're going to help me. Many of these people don't have the tools to do that," the second employee said.
Along with working at the Opry Mills Mall, WSMV4 Investigates documented other former Solaren employees who are not certified wearing police identification working downtown.
Solaren has a contract with a LLC, managed by the Nashville Downtown Partnership to provide additional security and protective services.
The contract is signed by Solaren's chief executive officer Jack Byrd III.
According to the state Department of Commerce and Insurance, Byrd is not a certified police officer.
However, a photo obtained by WSMV4 Investigates shows Byrd wearing a vest reading, "police."
On Byrd's Facebook page, he shows himself wearing similar vests.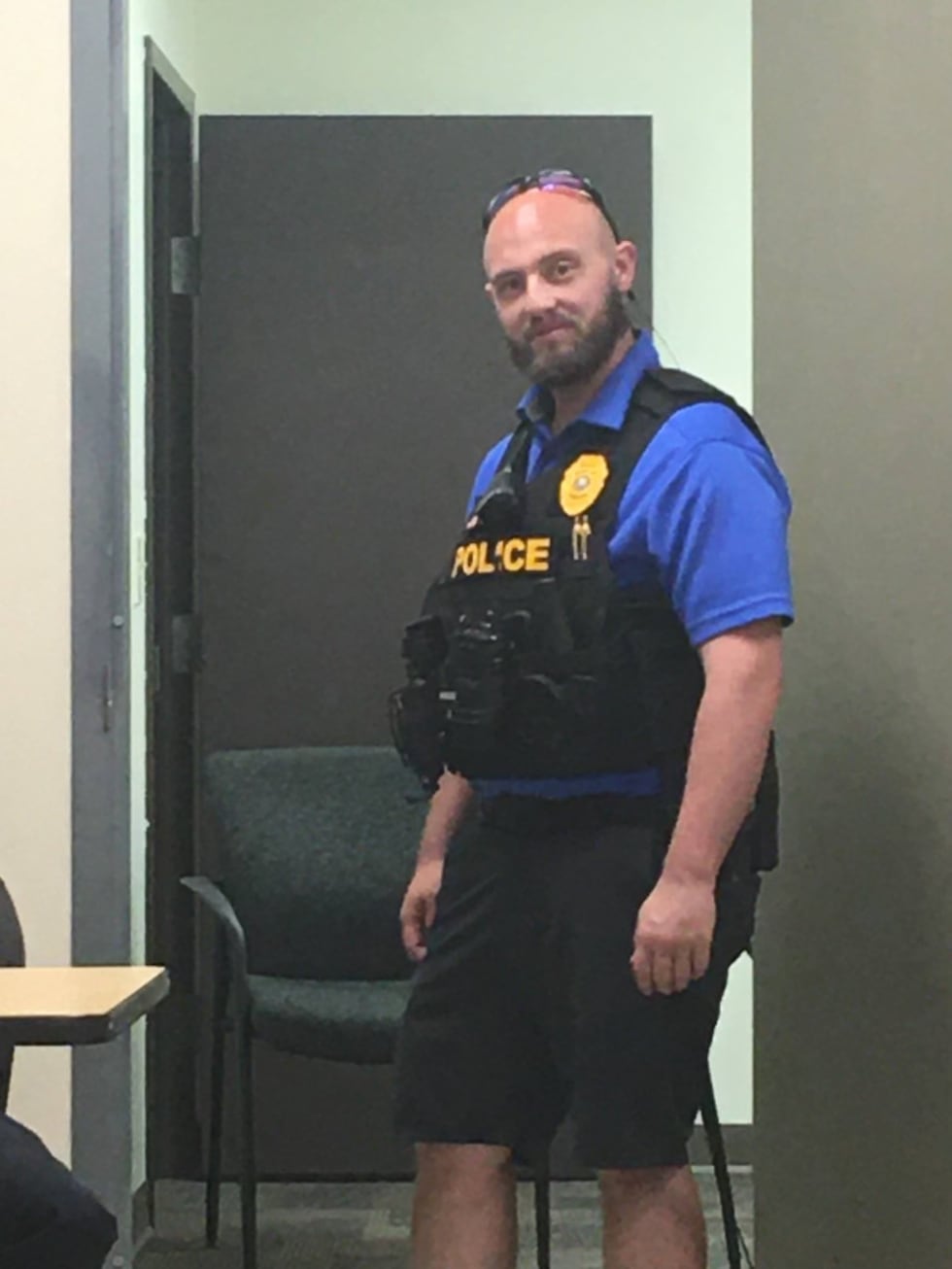 A spokesman for Solaren texted WSMV4 Investigates to say that at the time of the photo, Byrd was a commissioned officer.
State law regulates that any citizen can be commissioned to be an uncertified "reserve" police office for police department or sheriff's department, but can only work a certain designated amount of hours a week.
These uncertified reserve officers are often accompanied by a certified law enforcement officer on duty.
WSMV4 Investigates confirmed that Byrd resigned from his position as a reserve officer with Millersville Police on Feb 22, 2023.
David Raybin, a top law enforcement attorney, said if someone is an uncertified reserve officer in one town, that person cannot go to another town and wear police identification.
"You cannot have a person who is not POST (Peace Officers Standards & Training Commission) certified come into Nashville and wear police on their chest and dress up like they're a police officer," Raybin said.
Late Wednesday, WSMV4 Investigates confirmed with the Nashville Downtown Partnership that they recently found out that Solaren was using uncertified officers.
In an email, a spokesperson for the Nashville Downtown Partnership wrote in part, "In early March 2023, we learned some personnel assigned to our contract area were not active duty law enforcement personnel. We immediately required corrective action by the provider to no longer assign any individual who is not on active duty to the Tennessee Highway Patrol or other off-duty police personnel."
Solaren owner first agrees to interview, then cancels
Emails sent by Jack Byrd to WSMV4 Investigates read he agreed to an interview on Monday, but then backed out.
In those emails, Byrd wrote that he was advised not to talk about his former employees and that he is still investigating what WSMV4 Investigates has reported.
An attorney representing Byrd wrote in emails in part, "Solaren denies ever violating the (Private Protective Services Licensing and Regulatory) Act by employing off-duty officers in positions for which they were not qualified."
That attorney also wrote that Solaren "denies that the company ever knowingly allowed its off-duty officers to wear police insignia in violation of the Act."
The former employees said they know why Solaren allows non-certified people to wear police identification: money.
The former employees said that security companies can charge more to clients if they advertise using off-duty, certified police.
And even though the former employees said Solaren does hire certified police officers for off-duty jobs, they also hire uncertified people who wear police identification.
"It's sickening that people are allowed to come and slap it on, and reap the benefits of police officers who actually worked for that title are getting. It's terrible," the second employee said.
If Jack Byrd does indeed agree to an interview, we will provide an update.
If you have any information on this story or anything else you'd like WSMV4 Investigates to look into, you can contact us here: https://www.wsmv.com/news/investigate/
Copyright 2023 WSMV. All rights reserved.