Patty Loveless, Tanya Tucker and Bob McDill to be inducted into Country Music Hall of Fame
The trio will be inducted at the Medallion Ceremony in the fall.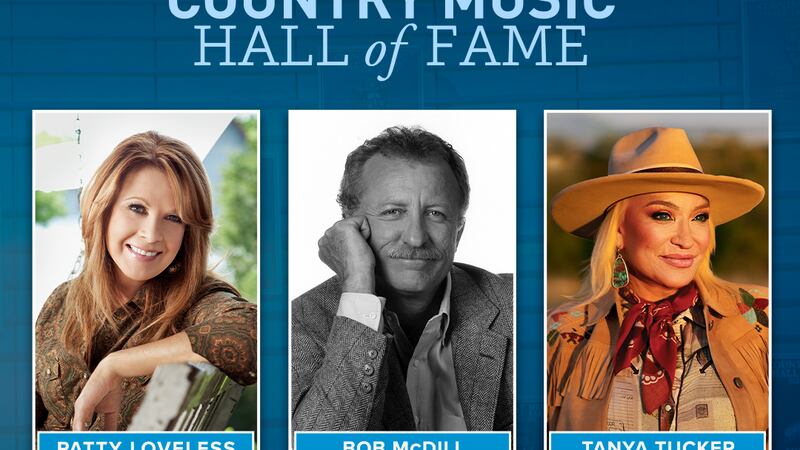 Published: Apr. 3, 2023 at 11:34 AM CDT
NASHVILLE, Tenn. (WSMV) - Bob McDill, Patty Loveless, and Tanya Tucker will be the 2023 inductees into the Country Music Hall of Fame, the Country Music Association announced Monday.
McDill will be inducted in the Songwriter category, which is awarded every third year in rotation with Recording and/or Touring Musician and Non-Performer categories. Loveless will be inducted in the Modern Era Artist category and Tucker will be inducted in the Veterans Era Artist category.
"All three of this year's inductees are truly one-of-a-kind storytellers," Sarah Trahern, CMA Chief Executive Officer, said in a news release. "Tanya, Patty and Bob each have a distinctive voice and an ability to share stories that precisely represent American life. While their impact is felt in very different ways, their songs are reflective of their generation and experience, vividly illustrating an authenticity that will last forever. We are honored to welcome these three very deserving inductees into the Country Music Hall of Fame."
Country Music Hall of Fame member Vince Gill hosted the press conference at the Hall of Fame Rotunda at the Country Music Hall of Fame and Museum to announce the inductees.
"I am thrilled and honored to be included," McGill said in a news release.
"I'm still trying to believe that I'm going to be inducted into the Country Music Hall of Fame, Loveless said in a news release. "I just feel so incredibly privileged to be invited to this incredible family. Having my name included in the museum's Rotunda with so many legendary artist, musicians, songwriters and industry icons is such an honor."
"I'm more than proud to be inducted into the Country Music Hall of Fame," Tucker said in a news release. "It was wonderful to have all three of my kids beside me when I got the news. The only way it could've been any better if my parents Beau and Juanita Tucker could have been there too. They are the reason and the root of all my success in music. And the fans – they are everything. When I walk in that Hall, they will all be with me.
"Each of our three new inductees has left a deep and distinctive stamp on our genre," Kyle Young, CEO of the Country Music Hall of Fame and Museum said in a news release. "Tanya Tucker, originally from Texas, is a force of nature who has bene blazing her way into our hearts since she was a teenager. Patty Loveless, who hails from the coal-mining hills of Kentucky, sings with mountain soul and makes music that blends tradition with invention. And Bob McDill from East Texas has written some of the most enduring and artful songs in our genre. They have all profoundly shaped our music, and we are honored and delighted that their achievements will now forever be enshrined in the Country Music Hall of fame."
For nearly 30 years, McDill graced country music with songs full of rich imagery, a deep empathy for their characters, and a literary sensibility that set him apart from his peers. From the early 1970s, until he retired in 2000, McDill had hundreds of cuts, placing more than 30 songs at the top of Billboard magazine's country charts, among them classics like Don Williams' "Good Ole Boys Like Me," Keith Whitley's "Don't Close Your Eyes, Alabama's "Song of the South," and Alan Jackson's "Gone Country."
Loveless was a regular presence near the top of the charts, releasing 34 Top 40 singles between 1988 and 2003. Loveless' best records flirted with rockabilly, gospel, and bluegrass, as well as country shuffles, and she had an ear for under-appreciated gems, especially when they possessed memorable melodic arcs. She had his songs written by Steve Earle, Rodney Crowell, Lucinda Williams, and members of Lone Justice, NRBQ, and the Nitty Gritty Dirt Band. She also recorded songs written by Guy Clark, Lyle Lovett, Richard Thompson, and Billy Joe Shaver, working in some Hank Williams and Carter Stanley on occasion. She was welcomed as a member of the Grand Ole Opry in June 1988, the same month her first Top 5 single, a cover of Earle's "A Little Bit In Love" hit the charts.
In 1972, at the age of 13, Tucker had her first Top 10 single with "Delta Dawn." Tucker began her recording career with six consecutive Top 10s, three of which – "What's Your Mama's Name," "Blood Red and Goin' Down" and "Would You Lay With Me (In a Field Of Stone) – went to No. 1.
A formal induction ceremony for McDill, Loveless, and Tucker will take place at the Country Music Hall of Fame and Museum in the CMA Theater this fall. The Museum's Medallion Ceremony, a reunion of the Hall of Fame membership, is the official rite of induction for new members.
Copyright 2023 WSMV. All rights reserved.