Before shooting, Audrey Hale repeatedly trained at local gun ranges
Photograph shows suspected shooter at gun range in May 2022.
Published: Mar. 29, 2023 at 8:15 PM CDT
NASHVILLE, Tenn. (WSMV) - Audrey Hale, the school shooter who killed three children and three staff members in a violent school shooting Monday, repeatedly trained at local gun ranges before the mass murder, WSMV4 Investigates has confirmed.
Hale took three defensive handgun training classes at the Royal Range USA in Bellevue before April 2022, the owner of the range confirmed.
Metro Police Chief John Drake also confirmed to WSMV4 Investigates that Hale trained at other gun ranges in Middle Tennessee before the shooting.
A photograph obtained by WSMV4 Investigates shows the back of a woman, wearing her hat backward with short dark hair, attending target practice at the Royal Range USA on May 21, 2022.
A Nashville woman, who asked that her identity be concealed, said she was at the range that day with her boyfriend, and got such a bad feeling from the woman in the hat that she stepped out of the room and snapped the photograph.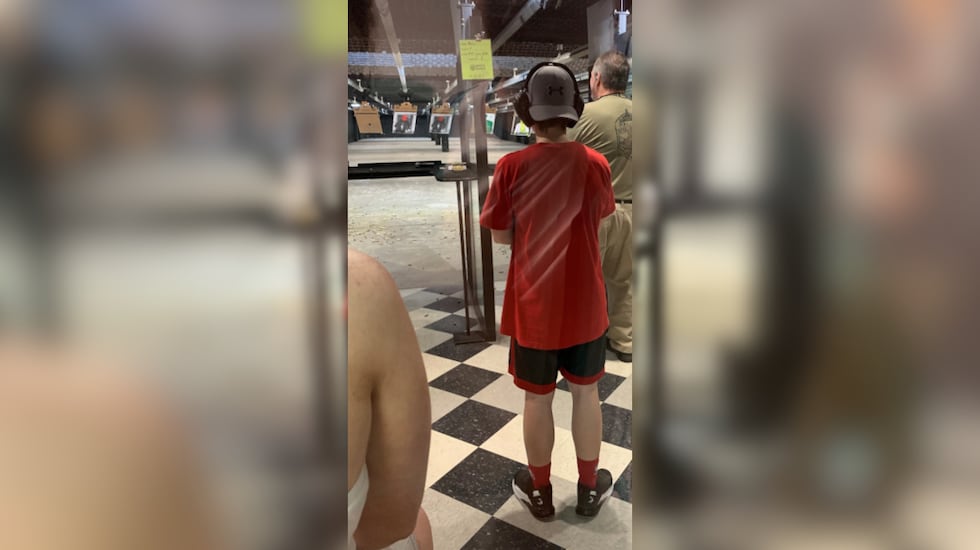 "I was like, there's something weird here," the woman said. "I was just thinking, if something was to happen, I need a picture of this person."
Nearly a year after taking the picture, the woman said she saw the video of Hale wearing her hat backwards during the shooting, and recognized her.
"I imagine it was the video that made you feel, this is the same person," asked WSMV4 Investigates.
"Yes, it was," the woman said. "With the hat on backwards, (and) the stature."
The woman sent the photograph in an email to Chief John Drake detailing the circumstances of the photo.
The owner of Royal Range said their system did a conversion last month and they are looking now to see if they have a record that Hale had taken gun practice on that same date.
While they declined an interview, a spokesman for the range sent a statement, reading in part, "We participate in and lead active shooter trainings and do trainings for law enforcement throughout this community on a regular basis, so this hits especially hard. We are working with and cooperating fully with law enforcement with anything they need at this time."
Ken Alexandrow, a former Metro Police officer and security trainer, reviewed the security video of Hale carrying and aiming her weapons for WSMV4 Investigates, and said it is clear that she was well trained.
Alexandrow said the fact that Hale held the butt of the rifle near to the middle of her chest and not up against her shoulder, as well as kept her elbows in and tight against her body, showed she was trained in tactic movements.
Alexandrow also noted that when Hale rounded a corner, she kept close to the wall, showing that she knew that position kept her small to others but also opened up her peripheral view.
Alexandrow said he and other gun range owners are now looking through their rosters to see if Hale trained with them.
"Even though anybody who trained her did nothing wrong, we still don't want to think we had anything to do with the success of this attack," Alexandrow said.
For transparency, WSMV4 Investigates agreed to conceal the identity of the woman who took the photograph, because she feared she would face threats for exposing Hale's training before the shooting.
Copyright 2023 WSMV. All rights reserved.