Manjon, Vanderbilt jolt No. 23 Kentucky at SEC quarters
The Commodores posted their first 20-win season since 2014-15.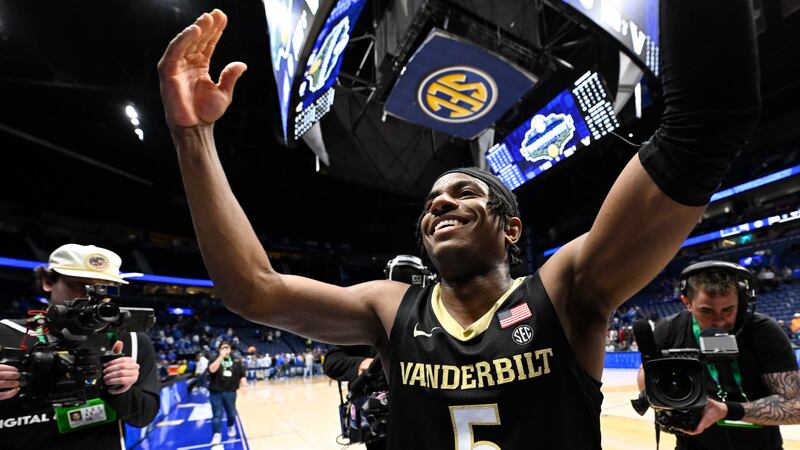 Published: Mar. 10, 2023 at 11:12 PM CST
NASHVILLE, Tenn. (AP) — Ezra Manjon scored 25 points and Vanderbilt jolted No. 23 Kentucky, rallying from an early 10-point deficit to beat the Wildcats 80-73 Friday night in the quarterfinals of the Southeastern Conference Tournament.
Vanderbilt (20-14) followed up its first win at Rupp Arena since January 2007 last week by beating Kentucky to advance to Saturday's semifinals against No. 18 Texas A&M, a 67-61 winner over Arkansas. The Commodores also posted their first 20-win season since 2014-15.
Fourth-seeded Kentucky (21-11) appeared ready to cruise early with a 10-0 run going up 14-4.
Vanderbilt now has won 10 of its last 11 and never blinked despite making only one field goal in the final 6:29. The Commodores beat Kentucky by going 18 of 20 at the free throw line while Kentucky was 11 of 20.
Tyrin Lawrence and Jordan Wright each had 18 points for Vanderbilt.
Antonio Reeves led Kentucky with 22 points. Jacob Toppin had 21 points and 11 rebounds, while Oscar Tshiebwe had 19 points and 15 rebounds.
The Commodores took control scoring the final 12 points of the first half with Colin Smith giving them the lead for good at 36-34 with 32.2 seconds left in the first half on a pair of free throws after a Flagrant 1 on Tschiebwe. Vandy led 39-34 at halftime.
Vanderbilt then opened the second half outscoring Kentucky 13-8 and took its biggest lead at 52-40 with 15:43 left. Then the Commodores went cold, missing six of seven shots with Kentucky whittling that lead down to single digits.
Kentucky got within 63-60 after a pair of free throws by Reeves. But Manjon corralled a loose ball just at the half-court line, then beat the shot clock with a long 3 with 6:30 to go. Lawrence's jumper with 1:11 left was Vandy's only other made field goal.
Vandy finished 12 of 14 at the line to seal the win.
The Wildcats were the last team to take the court at this tournament, an event Kentucky has won a league-best 31 times. Yet Kentucky leaves looking for its first tournament title since 2018.
BIG PICTURE
Vanderbilt exposed Kentucky's perimeter defense going 10 of 25 beyond the arc with five different players knocking down at least one 3 apiece. The Commodores also managed to stay close inside the paint despite being outscored 34-26.
Kentucky used its size advantage to absolutely dominate on the boards with a 43-26 edge and a 20-4 edge on second-chance points. The Wildcats also had a 14-4 edge scoring on the fast break.
UP NEXT
Vanderbilt now has a chance at yet another Quad 1 win in the semifinals to burnish a suddenly impressive NCAA Tournament resume.
Kentucky gets a couple more days to heal up and wait for the NCAA Tournament bracket announcement.
Copyright 2023 WSMV. All rights reserved.