Lawmakers file bill that could reduce size of Nashville's Metro Council
In Nashville, there are 40 members on the metropolitan council.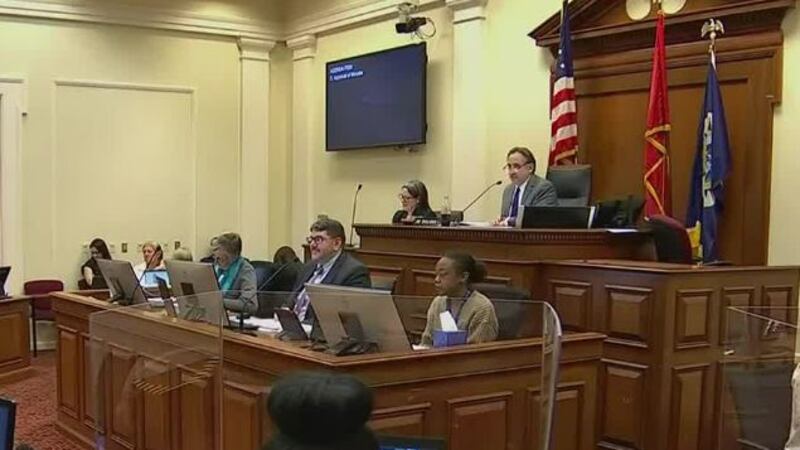 Published: Jan. 9, 2023 at 1:23 PM CST
NASHVILLE, Tenn. (WSMV) – Tennessee Rep. William Lamberth, R-Portland, and Senate Finance Chairman Bo Watson, R-Hixson, filed legislation Monday that aims to reduce the number of politicians in metropolitan governments.
The Small Government Efficiency Act, or House Bill 48, wants to "rein in" excessive government growth by reducing the maximum size of metropolitan and municipal legislative bodies in Tennessee to no more than 20 voting members, according to House Republican Caucus press secretary Jennifer Easton.
In Nashville, there are 40 members on the metropolitan council.
"When government grows beyond a certain size, it hinders economic growth, taxes are inevitably raised and the standard of living for the average citizen is diminished," Lamberth said in a statement. "Government functions best closer to the people. This legislation will strengthen local democracy and competency by improving the ability of local elected leaders to effectively represent their communities."
Local government bodies exceeding 20 voting members would be required to dissolve and re-appropriate current districts using the latest federal U.S. Census data to ensure equal representation based on population, according to Easton.
"Local government bodies need to be a size that allows them to function efficiently and effectively without compromising their duty to represent the people," Watson said.
Mayor John Cooper released the following statement regarding the proposed bill:
"As recently as 2015, Nashville residents voted by a nearly two-thirds margin to keep Metro Council at 40 members. Far from strengthening local democracy, today's legislation undermines the will of Nashville voters and effective local governance. Contrary to claims by our state colleagues, this Metro Council has successfully facilitated historic accomplishments for our city – including record investments in education, enhanced support for our first responders and major economic development agreements that will directly benefit the state's economy. Nashville is the engine of the state's economy and the envy of cities across the country, and that success has been built with Metro's 60 years of good governing by our 40-person Council."
The 113th Tennessee General Assembly convenes on Jan. 10.
Copyright 2023 WSMV. All rights reserved.