Irish upset Vols 7-3 to advance to CWS
Notre Dame wins series 2-1 while UT closes out an historic season at 57-9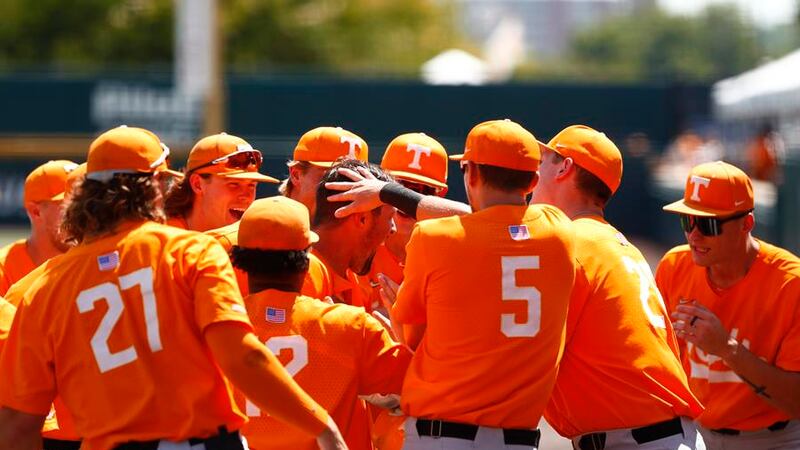 Published: Jun. 12, 2022 at 10:55 AM CDT
|
Updated: Jun. 12, 2022 at 2:51 PM CDT
KNOXVILLE, Tenn. (WVLT) - UT and Notre Dame square off in a do-or-die game three on Sunday at 1 p.m. ET with a spot in Omaha on the line. Sunday's contest will be broadcast on ESPN.
Tennessee's bats put on a show in its eight-run fifth inning, hammering four home runs in the frame. It marked the sixth time this season that the Vols have hit three or more homers in an inning and the second time this year with a four-homer inning (Bot. 8 vs. Auburn on April 29).
By picking up the win, Chase Dollander remained perfect record-wise on the year, improving to 10-0. The last SEC pitcher to start a season 10-0 was Arkansas' Blaine Knight in 2018.
All-SEC and Collegiate Baseball All-Freshman team member Chase Burns gets the start for Tennessee in this all important final Super Regional game.
It's a solid start for Chase Burns. 2 fly outs and a K. 3-up-3 down with the Vols coming to bat.
He does it again! UT slugger Luc Lipcius goes yard. A solo shot off Irish starter Liam Simon. His program leading 40th HR gives the Vols a 1-0 lead. In his first at bat back, Drew Gilbert grounds out to short advancing Jordan Beck to 2nd. Trey Lipscomb would ground out to the end the inning as the Vols take the early lead.
Vols regain the lead in the bottom of the second. After stealing 2nd base, Jorel Ortega comes around to score on an RBI single to left by Seth Stephenson. Hit comes off new pitcher Alex Rao, who relieved starter Liam Simon just before Stephenson's at bat. 2-1 Tennessee. Tennessee's Luc Lipcius would later come up with two on and two, but this time he flies out on a play that included a pretty good collision by a pair of Notre Dame players.
Ugly half inning in the box. Beck HBP, Gilbert jammed and popped out to third, Lipscomb struck out, and Beck was caught stealing 2nd. Vols lead 2-1 after three full innings.
Burns gets two Irish batters to ground out before ending the top of the 5th with a backwards K - his fourth strikeout of the game. Vols up to bat leading 2-1.
Stephenson makes it a two-run ballgame! After a Cortland Lawson leadoff single, Stephenson puts one into the corner in left field. Tennessee takes a lead 3-1 in the bottom of the 5th. The Irish make a third pitching change.
Notre Dame's LaManna puts one into the Tennessee bullpen. The two-run home run ties this thing back up at 3 in the 7th inning.
Irish hit back-to-back home runs and take their first lead of the game. Notre Dame 4 - Tennessee 3 after seven.
Top of the 8th and more trouble for Tennessee. Notre Dame puts one in the gap for a two-RBI double. They add another with an RBI single to left. Irish up 7-3 headed to the bottom of the 8th.
Notre Dame pitching would shut down the Volunteers over the final two innings as the Irish upset the Vols 7-3. Tennessee closes out an historic season at 57-9.
Copyright 2022 WVLT. All rights reserved.