Carjacking suspects facing federal charges following pursuit in Clarksville
Published: May. 11, 2022 at 8:10 PM CDT
CLARKSVILLE, TN (WSMV) - Three Nashville men and one Nashville woman are looking at federal charges for the pursuit on May 11 that ended in Clarksville.
Metro Police arrested four people on Wednesday, May 11, in Clarksville, ending a pursuit that involved the FBI, MNPD, the Tennessee Highway Patrol Aviation Unit and Clarksville Police.
Detectives had received information concerning the confrontation to occur in the area of 2400 Buena Vista Pike involving Javon Kelly, 20, and others. Kelly was free on $35,000 bond in relations to a 2021 aggravated robbery arrest.
Kelly and three other people were spotted at 2400 Buena Vista Pike and were followed as they left in a red Honda Accord. Police determined they were armed.
Detectives attempted to stop the car near the intersection of Clarksville Pike and West Hamilton Road. It pulled over before fleeing. Police did not attempt a ground pursuit as a Tennessee Highway Patrol helicopter was in the area. The helicopter followed the Honda on I-24 West to Clarksville.
Troopers attempted to stop the car in Montgomery County but were unsuccessful.
The Honda exited I-24 at Exit 8 in Clarksville and was involved in a crash. The four occupants, identified as Kelly, Juan Rodriguez, 19, I'yendaye Byrd, 18, and Armesia Newsom, 18, bailed from the car and carjacked a nearby pickup truck. Clarksville police and other law enforcement pursued the pickup truck for about 10 minutes before it crashed while attempting to get onto I-24 East toward Nashville. They were taken into custody and charged with carjacking in Montgomery County.
Metro Police said five guns were recovered, three from the wrecked Honda and two from the pickup truck.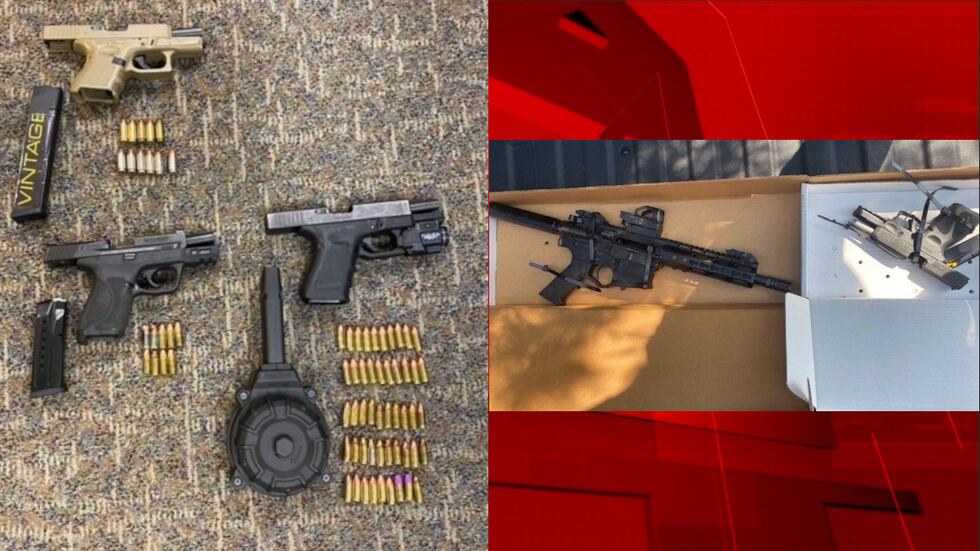 Rodriquez was convicted of felony aggravated assault with a deadly weapon in January in Nashville and was given a mostly probated four-year sentence, according to police. Byrd was arrested at the age of 16 and charged in Juvenile Court with criminal homicide for a Dec. 31, 2020, fatal shooting. He had an ankle monitor at the time of his arrest on May 11.
Clarksville Police received the initial information about the suspects traveling into the Clarksville area around 6:30 p.m. on May 11.
No one was injured in the either crash or the carjacking incident.
Special Assistant U.S. Attorney Steven Brantley is prosecuting the case.
Copyright 2022 WSMV. All rights reserved.