Hickman County residents worried about proposed sewage treatment plant


Published: Apr. 25, 2022 at 9:13 AM CDT
|
Updated: Apr. 25, 2022 at 6:27 PM CDT
PRIMM SPRINGS, Tenn. (WSMV) - Lick Creek's clear water is full of memories and opportunities.
"My family has been here 139 years. We lived and farmed our farm," Ray Oakley said.
"One of the reasons we bought this is to be able to fish in my own creek," Hickman County resident Mike Weesner said.
One thing the creek does not have is treated wastewater. Something that could change.
"We don't want it here," Dwayne Mathis said.
The it? A new wastewater treatment plant proposed by the Water Authority of Dickson County. It would discharge treated wastewater into Lick Creek, which flows into the Duck River.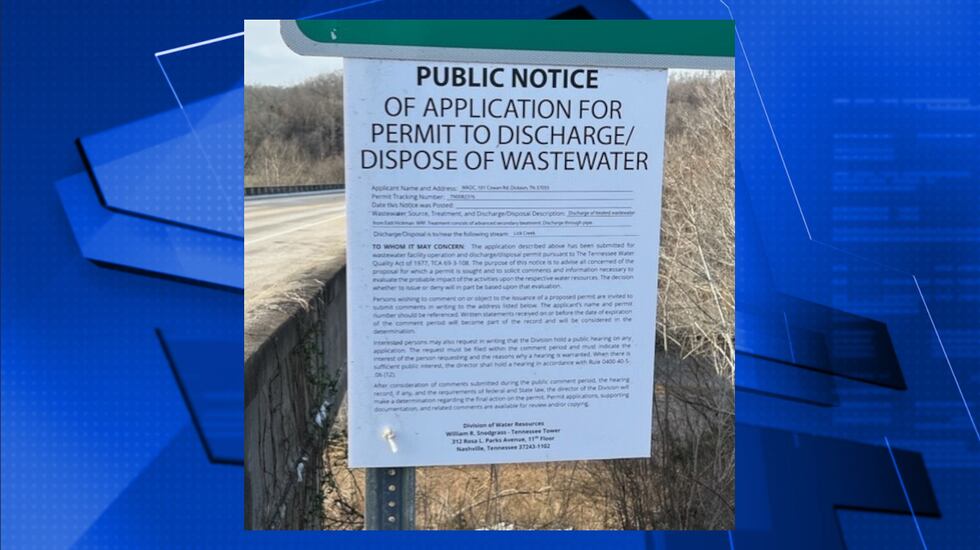 In case you're not up to date on how wastewater treatment plants work, here's the general idea:
Wastewater is piped into the plant, which would primarily remove solid waste and kill bacteria, but other potentially harmful substances like heavy metals, pharmaceuticals and other chemicals may get missed and remain in the treated water that's discharged into the creek.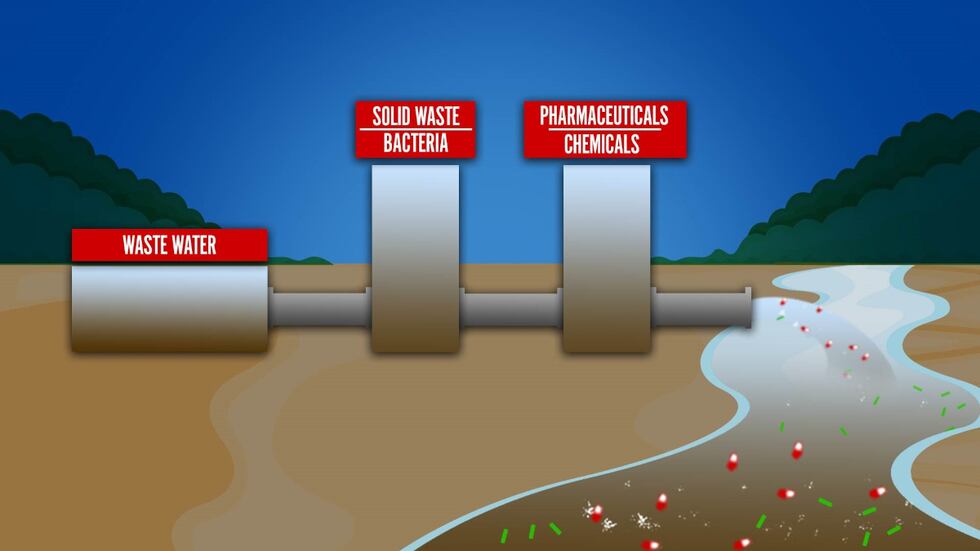 Organic and holistic farmers like Vange Johnson believe that puts their livelihood at stake.
"We're going to be eating instead of pure, leafy greens, now poopy water salad greens. Our health is at stake," Johnson said.
Neighbors are coming together to fight the plant and the company behind it, the Water Authority of Dickson County.
News4 Investigates received a copy of the preliminary engineering report filed with the Tennessee Department of Environment and Conservation. In it, the company said its three other facilities in the Midstate are running out of capacity and expect more will be needed in the future. The report also said the proposed treatment facility would open a sewer system for part of Hickman County, ultimately leading to industrial growth.
"It might, but we are certainly suspicious of those figures," Hickman County Commissioner Lionel Barrett said.
The Hickman County Commission is asking TDEC to delay any permitting to allow them time to study the proposal.
"It's not like Hickman County is saying no, there will never be any type of treatment facility, it's just that we need more time to evaluate it, and certainly Lick Creek does not seem to be the preferred area," Barrett said. "It will not be the Lick Creek that generations of Hickman Country grew up with."
For residents like Mathis and Johnson, they plan on fighting it to the end.
"I want you to think about the one county that holds more pure creeks and more scenic waterfalls than any other county in Middle Tennessee," Johnson said. "We need cities. We need growth, but we need growth on our terms."
News4 Investigates reached out to the Water Authority of Dickson County multiple times for an on-camera interview. Executive Director Michael Adams said given the fact that their application is still in the review process and subject to modification, it is premature for additional comments. They added that when the review is complete, they expect to engage in a full discussion of the issues pertaining to the project.
Copyright 2022 WSMV. All rights reserved.