Tennessee leaders and homeowners join together to address flood preparedness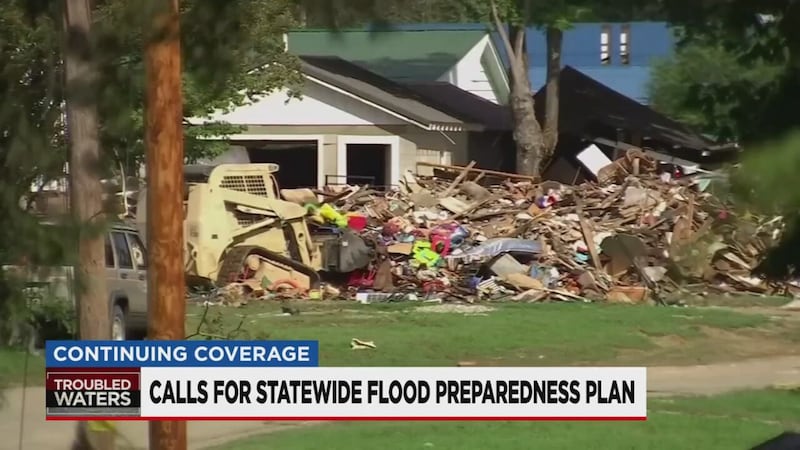 Updated: Dec. 10, 2021 at 5:58 PM CST
NASHVILLE, Tenn. (WSMV) - Flooding can be one of the top concerns when severe weather hits, and Middle Tennessee has seen its share over the past few years.
It's why a group of Tennesseans, leaders and officials are calling for a state-wide flood preparedness plan. With water rising inch by inch, tears came to Amanda Maples watching her mother get saved by people on a jet ski during the deadly Waverly flood in August.
"The flood came so fast that we didn't have a chance to get out of our homes," Maples said.
Nearly four months after the deadly Waverly flood, life still isn't normal.
"Our life has just changed completely. We weren't prepared for this at all," Maples said.
Maples made it her mission to help others. She's part of Flood Ready Tennessee, a growing group of 68 members made up of mayors, elected officials and homeowners who are pushing for ways to increase flood preparedness.
"If technology can predict flooding, then we as people should be able to mitigate things from happening," Maples said.
Waverly isn't alone in this fight.
"Franklin's had some flooding problems," Franklin Mayor Ken Moore said.
Moore remembers heavy rains hitting his town in March and rippling through homes and businesses.
"We're also very very strict on our storm water here," Moore said.
Moore is working with TDOT to reconstruct the bridge on Franklin Road and is coordinating with the Army Corps of Engineers to elevate more than 20 homes in flood risk areas.
"If we could elevate 23+ homes in some of these flood prone areas, those homes will never be damaged again," Moore said.
The challenge though is money. It's why he's working with government agencies, and knows that it will take some time.
"There's never enough money to do everything we need to do as a city. So any additional assistance we can get to do these projects would be greatly appreciated," Moore said.
Flood Ready Tennessee says flooding costs the state on average $243 million a year. According to the Tennessee Emergency Management Agency's website, from 2000-2020, there have been 2,825 flood events in Tennessee. Flood Ready TN says this means, a flood happens more than once every 3 days across the state.
Nashville Councilmember Courtney Johnston from District 26 has seen her fair share of water damage sweep in and destroy homes.
"I still have people displaced from the march floods of this year. And people are still rebuilding their homes," Johnston said.
It's why she wants to find solutions before the next storm comes, and have all organizations as one unit.
"This is a beautiful part of our city, but it's also our storm water infrastructure, so let's make sure it's working properly," Johnston said.
As for Maples, she wants to protect the next homeowner from experiencing what she went through, before the next storm rolls around.
News4 reached out to Governor Bill Lee's office to ask if they have been communicating with Flood Ready TN to help advance flood mitigation. We are waiting to hear back.
One way to protect your home is to invest in flood insurance. For more information, click here.
Copyright 2021 WSMV. All rights reserved.